Work
Solo The Positive Light / Silent Buddhas Catch The Madness Session Work Fun Stuff !!
Tony Turrell Solo
Firstly and most obviously there is the solo project.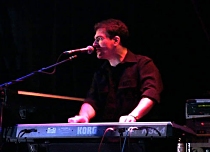 The debut album "Fragmented" came out in February 2002 and, although Tony has done solo gigs to support this, it was far from a one man project. Principal helper and one-man session band and studio was Jason Bangalot, who covered drums, bass guitar, the percussion that Tony couldn't do (i.e. most of it), the backing vocals Tony couldn't sing (i.e. most of the lower stuff), engineering, mixing and co-producing. A man with many hats who fortunately is large enough to wear all of them without appearing crowded. His recording studio Jester Studio is proving to be increasingly popular due to the friendly atmosphere, reasonable cost and excellent results Jason gets. But don't go there if you're scared of big blokes with tattoos.
The other major player in this project was Jon Miller, who covered all the electric guitar work (with the exception of one track where we couldn't stop Tony getting in). Jon's pedigree speaks for itself; as the man who deals with all the Gibson guitars that come into the UK his technical knowledge is surpassed by few. Small wonder that his skills are in great demand; and lucky for Tony (and anyone who has to listen to Tony's album) that his playing skills equal his technical knowledge. His drinking skills are also equal to this standard, as is explained elsewhere on this site (see the Making Of Fragmented link on the albums page). Hence his usual credit of Jon Miller - Guitar . Budweiser.
The follow up to "Fragmented" proved not to be a follow up in the slightest, but a complete change of direction. "Private Piano" came about as a result of a suggestion from Tony's other half and was done in the most simple way possible; record an output from a piano and master it to CD. Therefore it was possible to record this at Tony's small home studio but in keeping with its simplicity, feel and mood rather than sonic and technical perfection were the main aims. Just as well as Tony can't play...
The other project that comes under the solo umbrella is TT, an acronym for a separate line of music very much in keeping with the original work Tony was doing when he hooked up with Fish. Described as "ambient progressive" or "urban prog-dance/groove" by vaguely interested parties, this style follows on from the approach taken on the Fish classic "Plague Of Ghosts".
Can we spot a dislike of pigeon-holing here?
The Positive Light & The Silent Buddhas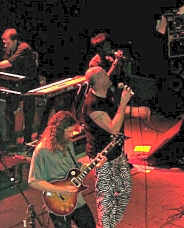 These two projects were run in partnership with Mark Daghorn of New Rising Studios; this partnership covered remixing work and recording as well as writing original material. Mark's background included running one of the most successful recording studios on the island of Jersey and working as an in demand session bass player for some of London's most exacting producers. Of the work that was done for various people under these project names probably the most well known was the the remix album done for Marillion's "This Strange Engine" album, called "Tales From The Engine Room". Tony's involvement with this project came late in the day; The Positive Light had already been started by Mark Daghorn and a former friend from Jersey, whilst Tony was working with Mark as The Silent Buddhas. When the remix album stalled with work in progress, Mark asked Tony to come in and help finish the project off.
This duly done, it led to other work being commissioned, amongst which was a request from Fish, Marillion's ex-frontman, to do some work for him. This led to Fish hearing some original material that Mark and Tony were working on which eventually became known as the six part 30 minute piece "Plague Of Ghosts", which Fish included on his "Raingods With Zippos" album. Tony was asked to play keyboards on the album and also went out on the ensuing 1999/2000 world tour.
Mark and Tony had worked on their own material for release in 2000/2001 with an album for each project, but dissatisfaction with the results led to the decision to re-record both albums. When this will take place has yet to be decided.
Catch The Madness
Tony and Torchie! This project is run in conjunction with a close friend of Tony's from a previous band. Tony worked with the popular East Anglia pub band "Shy At The Chemist" for 4 years; Torchie was the guitarist and founder member.
Torchie still works on the same circuit with the descendants of Shy, "Sad At The Clinic". A band that guarantees a sell out crowd wherever they play, their covers based set takes very much of a back seat to having a party and a bloody good time! Which would probably explain why they're so popular...
After being courted briefly by a chance of fame and fortune with his originals band "Grace" in the early to mid seventies, Torchie (real name "Torchie") decided the best way to live life was to party and have a good time. He has spent the majority of his career doing this, but a few years ago got the hankering to do something vaguely serious again and teamed up with one of his contemporaries to record two fine albums, "Crisis Of Life" and "Fred The Finger" (Guess Who guesting on keyboards).
After a cabinet reshuffle Torchie decided he preferred the teacups at the front and started working with Tony on an album titled "City Tales", with a loose theme around said title. However, with both parties' already hectic work schedules, this has not been the quickest of albums - it's been over 2 years at the construction stage!
There are vague plans for this outfit to gig in the not too distant future but in the meantime Tony intends to include one or two numbers in his solo sets.
Session Work
Does anybody really care?
Various bands have been murdered by Tony's approximation of keyboard playing but the only ones still suffering him on a more than one off basis are the outfit "Songs From The Blue House" (formerly known as "Songs From The Blue House") and we think that's mainly because of some deal Misters Kirk and Partridge did with Tony on tea and beer. Keep an eye out for the gigs though because if Tony's with them you're in for a good laugh, at least. Although you'd be in for a good laugh anyway as they are genuinely very amusing. Actually Tony did play keyboards on their last CD single and somehow managed to get some praise for his playing on it... we're waiting to see just how much Tony had to spend to achieve this.
Who else has he worked for? John Wesley, Kath Crowe, Mike Reid, Fish, Mick Abrahams, Texas bluesman Lightning Red, blah, blah, blah, etc., etc. Like anyone really gives a toss.
Fun Stuff !!
Tony did occasionally bother to gig with a couple of other outfits, the first being a local band of some of Tony's best friends called "One Short". Boasting Ian Gibbons of the Kinks as their original keyboard player, times were obviously harder when they asked Tony to play. The redoubtable Jason Bangalot led this motley bunch on the rare occasions they got together on drums AND lead vocals (yes! All at the same time!), ably assisted by Chuck Berry and Jerry Lee Lewis' old bass player Spud Spurling and top East Anglian guitar tutor Kevin Butcher. How the hell this talented lot ended up with Tony is anybody's guess. When they do bother to go out (very, very rare these days!) and gig they just play some of their favourite covers - anything from Stevie Wonder's "Sir Duke" and Elvis Costello's "Oliver's Army" to Pink Floyd's "Comfortably Numb" and ELO's "Mr. Blue Sky". Fancy an evening of civilised fun? (Well, relatively civilised. Jason still has the use of a microphone, after all.)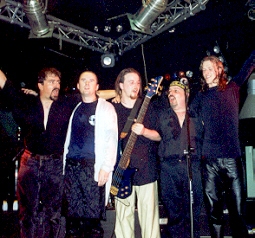 Another outfit Tony occasionally guested with involved some of the nicest guys anybody could hope to meet. Formed to play in aid of charity, united by their love of the music of Marillion and Fish, the Skyline Drifters first got together for a bit of fun at the "Just Good Friends" internet group's fund raising events. Deciding after the first attempt that it would be nice to work with a keyboard player they enlisted the man known as Tosh to find one. After failing to do so, he went to ask Tony to go and work with them. Although Tony turned up the next time he didn't manage to work; however he did manage to get drunk with them spectacularly successfully. We think he even managed to break original guitarist Tricky's equipment, necessitating a line up change. The rest of this consummate band (Adrian Holmes on drums, Tone Makos on bass, Rich Harding on vocals and the newly enlisted Dave Woodward on guitar) couldn't believe Tony would do this sort of thing again, so they invited him to their next gig. He proved them wrong. Proving what gluttons for punishment they are, they decided to make Tony a permanent member (well, as permanent as a member of a band that only gigs twice a year and never rehearses can be). Although they probably only did it for the amusement factor, Tony still loves all of them dearly for it. Especially when he found out they shared his love of Thomas The Tank Engine.
Unfortunately, Tony's other commitments don't allow him to spend any time with these guys these days. We believe they're all doing Tony's work bookings on the sly to make sure of that.
There are also some other local function bands that Tony spends a lot of his time ruining, namely Frisky and two or three tribute acts (Prince, Robbie Williams, Neil Diamond). Unfortunately whatever he gets up to with these is not printable here. This site is visited by minors.